Mošćenička Draga - Villa-Inge
Since the opening of Villa-Inge it is managed by the Tutić family. We, your hosts in the second generation, Johanna und Reinhard Tutić, want you to feel comfortable and to spend relaxing holidays with us here in Croatia, Mošćenička Draga. We ensure a personal touch and, with absolute commitment, we take care of your issues, together with our staff. In the case of questions and requests you can always feel free to contact us. If it is about whether you bring your boat, do sports or simply about getting to know the best restaurants, we are always available to offer advice and practical help. For more than 40 years, Villa-Inge is our second home, so in Mošćenička Draga we can give you qualified "tips" for your vacation!
The first guests were accommodated in Villa-Inge in the mid-1980s. Seven double-rooms and since 2005 five other apartments (suites) are available to the guests. A communal lounge/breakfast room and terraces around the villa, complete the offer. A parking lot is available for every guest of our guest house. As an owner-managed guest house we strive to maintain a constant high quality standard. The Villa-Inge is embedded in a 1.250 sqm beautifully planted serpentine-garden. From the breakfast terrace you will have a view between oak crowns at the only 80 meters distant sea.
Within walking distance you can make use of leisure activities (partly fee required): Spa & s, Nordic-Walking, bike rentals, diving school, windsurfing, tennis, table tennis, taxi boat, hired boat, boat trips, air cushion boat trips, jet ski, pedal boat, water ski, parasailing, ride on native fishing boat, etc.. All other procurements for daily goods, e.g. doctor, pharmacy, post office, shopping market, etc. you can make on foot.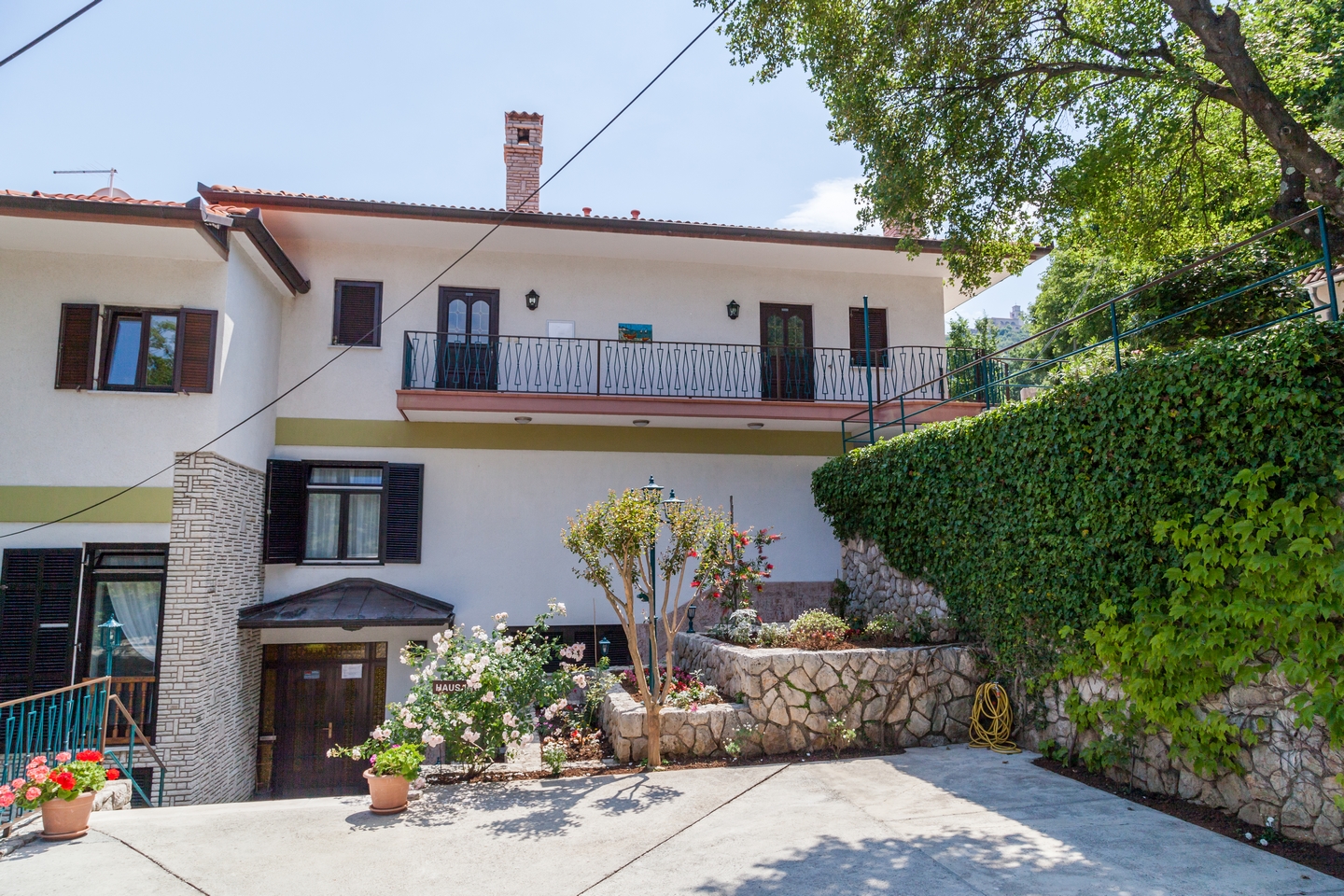 Beach bars, cafés, ice-cream parlors and several outstanding Croatian restaurants are to be reached without a vehicle from Villa-Inge. Even the "Time" reported in a worth reading article in March, 2013 on the gastronomy in Mošćenička Draga. The restaurant Johnson, named in the article, is only a stone's throw away from Villa-Inge. If you wish, you won't need your car during the vacation.
For guests who look for relaxation, nature lovers, lovers, individualists, sportsmen and artists, since decades Mošćenička Draga, situated far from mass tourism, is the holiday destination where they gladly return regularly.
Guests are the heart of our actions. Due to tradition, in the Villa-Inge hospitality and tolerance and a perfect atmosphere encounter. We guarantee relaxing and unforgettable holidays. The Villa-Inge is under German management. We would be pleased about your visit!